About YJS
We have accumulated a half century of experience in producing handling systems for hot and cold water. Whether you're dealing with metals, resins, or any other kind of material makes no difference. The most important thing in developing technology is to always try something new and challenge yourself. This concept is very simple, but it is at the center of our philosophy as a company.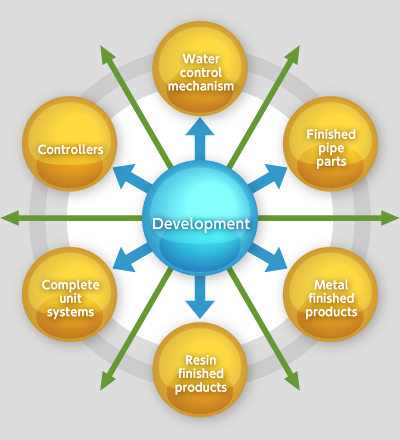 The acquisition of skill depends on "to try" or "not to try".
YJS group works with different bent parts, as well as output and pressurizing systems, and manufactures all kinds of copper piping fittings for use with gas hot-water heaters. We have also made efforts to build systems using resin materials, which are more difficult to produce with precision than their metal counterparts, and have succeeded in creating a finished working product. In addition, our engineers are always studying and carrying out new tests, and the results are the creation of our combined metal and resin systems, including water control mechanisms, complete unit systems, and controllers. While inventing new technologies to face challenges head on, YJS has come to define the "industry standard". We now begin our latest challenge–creating the "next generation heat exchanger."
Business description
Product development (water control products - electronic control products - unit products)
Metal processing
Forging
Casting
Header press processing
Pipe processing
Soldering
Resin mold processing
Assembly parts set
Products for sale
Water control products (mixing valve, flow rate adjustment valve, water quantity sensor three-way valve, bath switch, and etc.)
Bathtub adapter (Auto circulation type and Sip of hot water adding type)
Appendable gripping bar and laundry pipe
Towel hanger
Flexible tube
Bathtub grip
Different diameter and same diameter fastener
Metal processed products for various types of industrial equipment and tools