Department introduction
Mechanical water inspection line
We proactively use pneumatic inspections in the place of expensive hydrostatic inspections and have created a low-cost completely automatic inspection line that realizes a high level of correlation and stability. The inspection equipment has all been developed by our company.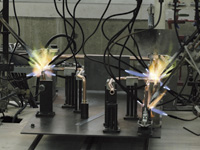 Processed pipe products
We provide processed pipe products with connecting sections that have been processed using an improved pipe end processing method and which are thus cheaper and can be connected in one step. This revolutionary processing technology can mass produce shapes and cross-sections according to your specifications and our high precision all-purpose facilities are also able to handle not only copper pipes but also different materials including aluminum pipes, stainless steel pipes, and more.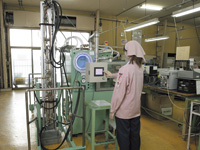 Unit products
We have established an assembly method which emphasizes ease of assembly from the part processing stage, thus achieving a reduction in cost. At the picking stage, we are implementing creative ideas at every turn which are suitable for handling small lots with large numbers of different part types.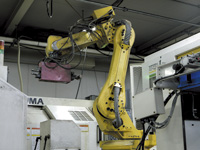 Metal processed products
Since our founding in 1924, we have cultivated a diverse repertoire of processing technologies that can be used in a wide range of areas including metal cutting, forging, and soldering, tool processing, and the processing of parts used in our own production facilities. This know-how is not limited to our own company's domestic production, but also allows us to ensure the quality of overseas procurement products, and assist us in our aim to improve our competitiveness and overall costs.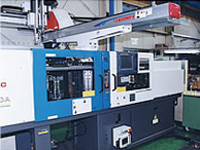 Resin molds
We have abundant know-how covering control technologies and management on areas including surface characteristics and precise measurement which is necessary to mold super engineering plastics such as PPS. We are engaged in development that contributes to increased lightness, lower costs, and increased product quality, applying it to feature designs, complex forms and heat-transfer performance which are needed for valves, heat exchangers, and more.