Top Message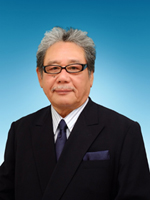 Thank you for accessing our website.
Our company began in 1924 as Hashimoto Seisakusho, a privately owned shop manufacturing metal spindles for electronic components and auto parts. Providing "Joyful Suggestions" has been our mission since our founding, and as such we have responded conscientiously to the individual needs of our customers, as they change with the times, always looking from their perspective.
In particular, in the field of hot and cold water products, we have not only offered metalworking, molding, and pipe manufacturing, but also established unique technical development skills, and continually offered clients the very best suggestions, for half a century.
We will continue striving forward, as both a pro water-system-related parts craftsperson team and a company offering "Joyful Suggestions". We take pride in our comprehensive supply system, which handles everything from development to mass manufacturing, and our concurrent engineering system.
In addition, we promise to continue challenging ourselves to offer innovative suggestions in the future, so that we remain a company that our employees, as well as our customers, can be proud of.
We sincerely appreciate your warm support.
Masashige HASHIMOTO
Chief Executive Officer
YJS Co., Ltd.